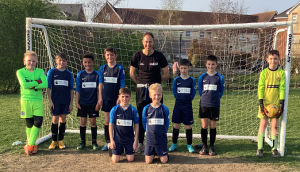 On Thursday 24th March 2022 the boys football team of Jennett's Park had the toughest football game of the season.
They had the task of beating the current champions Uplands.
Jennett's Park dominated the first half and kept possession of the ball and the whistle blew for half time with a score of 0-0.
The second half commenced and Jennett's Park came out strong, they demonstrated such skill and perseverance before Zach scored the first goal of the match.
The boys had massive support from their friends and families.
The boys continued to thrive and maintain the lead, there was a great save from Rhys, the speed of Teddy and the phenomenal skills from the rest of the boys.
Mr Page blew the final whistle and the crowd went wild.
The first time in Jennett's Park history the boys had done it, they have taken home the win.
I would like to say a HUGE congratulations to the boys, your dedication throughout the season has been incredible and you truly have made History!
A massive thank you to Mr Davies and Mr Page because without you it wouldn't have been possible!!!
Finally, thank you to all the parents and carers for your ongoing support and encouragement.