Early Birds and Night Owls Wraparound care
At the moment we are only placing for those aged 4 in Reception and above in Jennett's Park.
Breakfast

Club  - Early Birds 7:15am-8:45am
We have spaces for 16 children before school and the charge is £5.25
After school - Night Owls 3:15pm-6:00pm
We have spaces for 24 children after school and the charge is £9.63
Future changes
 · Stock and staff for each exciting new 'room' so eventually we can have as many wanting to come to begin the day as they wish.
· In the future we will introduce part session payments with prices paid for a later session.
· Explore how to staff for a younger room aged 3 and above.
School Clubs
We have other clubs running too. Some of these such as Karate, Football, Multi Sports, Laser Tag, Fencing, and Summer Sports – a combination of rounders, cricket and athletics, are run by outside providers that come into school. But the school staff also run clubs including Maths, Art and Crafts and Choir clubs as well as Dance, Tag Rugby, Cross-Country, Hockey, Athletics, Cricket, Netball and Girls Football. All the clubs will help you to gain confidence, work together as a team and also develop good co-ordination.
Current After School Leaflets
French Club - Jennetts Park School, January 2022 (1)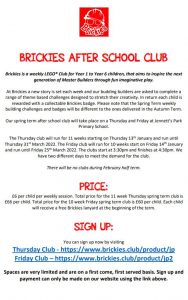 Brickies-jp-AfterSchoolClub-Spring2022
Dani Harmer Academy of Performing Arts
To know more about the other clubs we have, ask your parent or carer to contact the school office or email secretary@jennetts.bonitas.org.uk