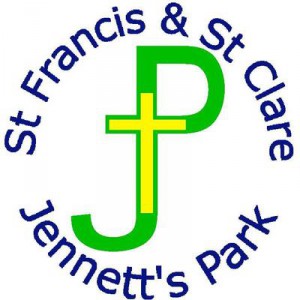 We are proud that our school hall becomes the place of worship for St Francis & St Clare Church of England.
The services are family friendly and we are delighted that we can host and welcome our community into school to celebrate, worship and pray. Alongside our worship and sharing of communion, there are crafts for children, stories and special songs, as well as quiet time for adults.
Everyone – and we mean everyone – is welcome at our Church.
Find out more on the church website.
Thought of the Week
Genesis Chapter 17 Verses 1-7 and 15-16
Covid Update
Dear All
Due to the current Covid restrictions we shall be holding all Sunday worship via zoom. I shall send the link out as a reminder but this will remain the same in future.  There will be time to chat both before and after the service.
If you have not used zoom before then this should automatically download the client when you click the link.  You can join on any device supported by zoom including a smartphone.  If zoom is already installed you can join the meeting using the meeting ID and password.  If you do not have the technology to join via zoom you can still join voice only using one of the phone numbers and entering the meeting ID and passcode when prompted.  If you have any problems joining or are not sure if you can contact me and I shall help or even set up a test zoom call to make sure everything is working when you join on Sunday.
If you have any queries please contact me or Reverend Carol.  If you know of anybody who has not received this email then ask them to contact us and give permission to add their email to our mailing list.  Also contact us if you wish to be removed from the mailing list.
If you have anyone you would like remembered in the prayers or produce the prayers then please contact Reverend Carol.
This Sunday is the second Sunday of Lent and we are looking at the agreement between God and Abraham.  If anyone would like to read I have attached the reading so please contact either Reverend Carol or me if you would like to do this or even tell us on the day .
See you all on Sunday,
Nick
Nick Roworth is inviting you to a scheduled Zoom meeting.
Topic: Saint Francis & Saint Clare Sunday Worship
Time: Sunday 11:30
Join Zoom Meeting
Meeting ID: 856 9714 3438
Passcode: 390239
One tap mobile
+442034815237,,85697143438#,,,,*390239# United Kingdom
+442034815240,,85697143438#,,,,*390239# United Kingdom
Dial by your location
        +44 203 481 5237 United Kingdom
        +44 203 481 5240 United Kingdom
        +44 203 901 7895 United Kingdom
        +44 131 460 1196 United Kingdom
        +44 203 051 2874 United Kingdom
Meeting ID: 856 9714 3438
Passcode: 390239
Pages in the Community Section