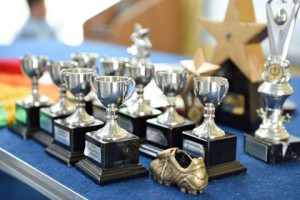 We want everyone to do the best that they can, to care for each other, to work together and to show us that they are keeping our Rainbow Promise.
At our Celebration Assembly we celebrate those children who are doing something great, working extra hard, being really kind or showing that they keep the Rainbow Promise daily at our school.
Our Year 6 children lead the Celebration Assembly and are very proud to hand out certificates, trophies and awards to celebrate the wonderful things that our children are accomplishing.
It is a very special time in our week!
Star Ambassadors Summer 2021
These children always show the Rainbow Promise and Owl Learning Behaviours.
| | | |
| --- | --- | --- |
| Year | Star Ambassador |  Reading Award |
| Reception Woodpeckers | Evelyn | Oliver |
| Reception Robins | Isabella | Vivaan |
| 1 Stonechats | Rohin | Oscar |
| 1 Whinchats | Freya | Max |
| 2 Yellowhammers | Daniel | Beaux |
| 2 Canaries | Shravya | Ellis |
| 3 Parakeets | Jacob | Reggie |
| 3 Greenjays | Joseph | Alysia-Rae |
| 4 Macaws | Imogen | Isabella |
| 4 Kingfishers | Ella | Becky |
| 5 Mockingbirds | Cassius | Imogen |
| 5 Peacocks | Austin | Soraya |
| 6  Sabrewings | Ilham & Annabelle | Lara |
| 6 Sunbirds | Frederick & Aurelia | Beau |
| Mrs Deauville | | Frankie |
| Shelley / Imogen | Lottie | |
| Mrs Robinson | Stanley | |
| Mrs Parrett | Jake | |
Pages in the Children's Section