WE WANTED TO SHARE AS WE ARE SO PROUD OF OUR LEARNERS!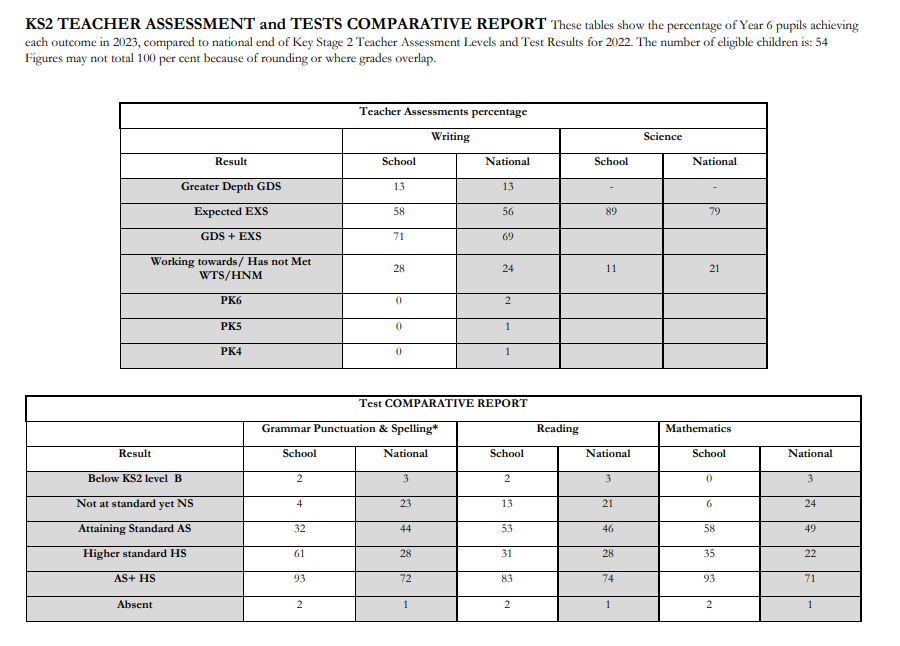 We have enthusiastic learners and are very proud of our latest end of Early Years, Key Stage 1 and Key Stage 2 results – and the school's improving performance.

We are very proud to report our outcomes in reading and mathematics at the end of key stage 2. These outcomes were well above national figures (by +12.3% and +13.4% respectively) Outcomes in writing at the end of KS2 this year were 16% below national. However, through careful tracking we have found that those that did not achieve the expected standard had made good progress from their starting point.

Outcomes achieved by children within our Year 2 cohort at the end of key stage 1 are broadly in line with national in reading and mathematics. Our results are below national in writing and this is an area of focus for us as we continue this year.

We are very proud to report that our pass rate within the Year 1 phonics screening was above the results achieved nationally for the last 2 years. We have continued to make improvements to our phonics approach within school which has been reflected in our pass rate this year being 15.6% above national.   This is a strong reflection of the we have chosen to prioritise the teaching of early reading and phonics.
We are very pleased with our outcomes for the end of Early Years. This year two thirds (66%) of the children in Reception achieved what is considered a Good Level of Development (GLD). This means they are working at the expected level in all Prime areas of learning, Literacy and Maths. The proportion of pupils achieving the expected level of development is broadly in line with national figures, and outcomes in the prime areas of learning are high, placing this cohort in a strong position as they move into Year 1.
83% of pupils met the expected level of development in word reading, also helping them to effectively access the Year 1 curriculum. At least 83% of children are at the expected level for all individual areas of learning, except for Writing. In Writing, 76% children are currently at the expected level. The cohort collectively have performed best in Physical Development and one area of PSED - Building Relationships. They have also performed equally well in the areas of Understanding the World and Expressive Arts and Design.
We are pleased with our results – and what the children achieved – this year, but we know there is more to be done so we are regularly in-line with or better than the national average in all subjects.
Pages in the Headteacher's Office
Data Results July 2019
 
 
 
 
2019

2018
2017
National 
EYFS
78%

↑

75% ↓
81%
72%
Phonics
78%

↓

98%  ↑
95%
82%
 
KS1 - EPS
Reading
80%

↓

81%

↑

73%
75%
Writing
72% ↓
76%  

↑

60%
69%
Mathematics
75%

↓

76%

↓

80%
75%
R/W/M
65%=
65%  ↑
64%
65%
 
KS1 Greater Depth
Reading
22

%↑

21%

↓

22%
25%
Writing
13%

↓

14%  ↑
12%
15%
Mathematics
15%

↑

7%  ↓
17%
22%
R/W/M
7% ↑
2%  ↓
7%
11%
 
 
KS2 - EPS
Reading
69%

↓

89%  ↑
79%
73%
Writing
74%↓
78%  ↑
76%
79%
Mathematics
84%

↓

96%  ↑
93%
79%
GPS
82%↓
96%  ↑
86%
78%
R/W/M
63%

↓

64%  ↑
61%
65%
 
KS2 High
Reading
31%

↑

19%  ↑
21%
27%
Writing
15%↑
11%  ↑
14%
20%
Mathematics
40%↑
33%  ↑
43%
27%
GPS
49%↓
63%    ↑
46%
36%
R/W/M
9%

↑

7%=
7%
11%